Every piece of glass I create is a unique piece of art
I have developed the shard technique to enable me to create unique and interesting abstract art on blown glass. Look for my painted and blown work. I apply all I have learnt from years of painting and studying art to create these works.
July 6, 2017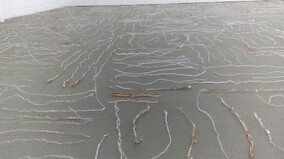 The photo above shows Dane Mitchell's installation at the Henderson Mossman gallery in Auckland. Dane spent a few days at my studio and we drew fulgerites in sand for his show. Diane and I went to Auckland for the opening. We also had time to see The Body Laid Bare, the travelling exhibition from th...
read more
Keith Grinter is the glass artist based in the Town Basin, Whangarei