Every piece of glass I create is a unique piece of art
I have developed the shard technique to enable me to create unique and interesting abstract art on blown glass. Look for my painted and blown work. I apply all I have learnt from years of painting and studying art to create these works.
August 4, 2018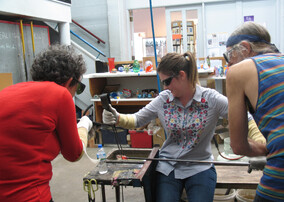 A team from Regent Training came to the studio on Tuesday for a half day of glass blowing as their team building exercise. They had a good time and gave me the impression that Regent Training Centre in Whangarei would be an enjoyable place to work. They do a great job of organising training for peop...
read more
Keith Grinter is the glass artist based in the Town Basin, Whangarei