Every piece of glass I create is a unique piece of art
I have developed the shard technique to enable me to create unique and interesting abstract art on blown glass. Look for my painted and blown work. I apply all I have learnt from years of painting and studying art to create these works.
May 22, 2018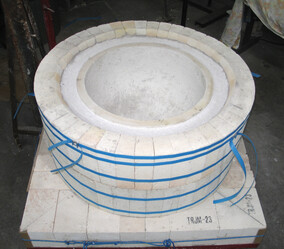 I have invested the crucible in 1800 castable refractory and shaved off the edges of the insulating bricks (image above). Now I am working on the former for the dome. Image above shows the base completed. The images below show the crucible surrounded by the insulating bricks, filler brick being cut ...
read more
Keith Grinter is the glass artist based in the Town Basin, Whangarei