Every piece of glass I create is a unique piece of art
I have developed the shard technique to enable me to create unique and interesting abstract art on blown glass. Look for my painted and blown work. I apply all I have learnt from years of painting and studying art to create these works.
June 17, 2018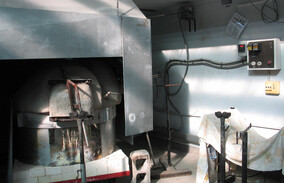 I spent five days heating the furnace from room temp to 1300C. Started with the gas torch and slowly raised the temp to 200C. I then started the burner and ramped up at between 5 and 10C per hour over 5 days. Filled the furnace on Thursday and started work over the weekend. It is great to be blowing...
read more
Keith Grinter is the glass artist based in the Town Basin, Whangarei