Every piece of glass I create is a unique piece of art
I have developed the shard technique to enable me to create unique and interesting abstract art on blown glass. Look for my painted and blown work. I apply all I have learnt from years of painting and studying art to create these works.
May 8, 2019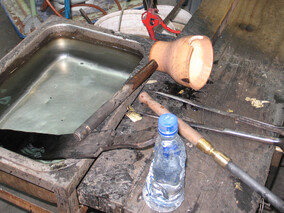 One of my glass blowing students lent me her lathe while she went overseas for a few months. I cut down a Tristaniopsis Laurina (alias water gum), an Australian tree that grows like a weed in Northland. It was us big enough to turn a woodblock for glass blowing. It was a bit of a struggle as I ...
read more
Keith Grinter is the glass artist based in the Town Basin, Whangarei