Every piece of glass I create is a unique piece of art
I have developed the shard technique to enable me to create unique and interesting abstract art on blown glass. Look for my painted and blown work. I apply all I have learnt from years of painting and studying art to create these works.
October 5, 2018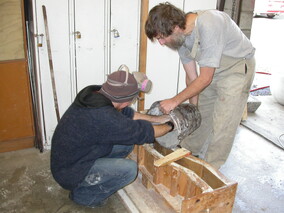 Rebecca Heap found this photo of Brendan Sole and I casting the furnace roof for the Glass School furnace. This was part of our furnace building elective. Although I now build furnaces to a different design, what I learnt on this course was invaluable when I bought my own studio in 2...
read more
Keith Grinter is the glass artist based in the Town Basin, Whangarei