Every piece of glass I create is a unique piece of art
I have developed the shard technique to enable me to create unique and interesting abstract art on blown glass. Look for my painted and blown work. I apply all I have learnt from years of painting and studying art to create these works.
February 20, 2020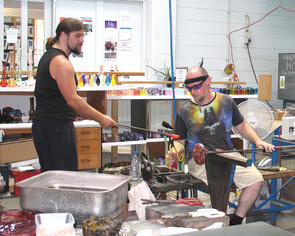 I am trying to give my body a break after six and a half years of mostly solo blowing. I know from other studio owners that there comes a point when you need to get help, or permanently stuff up wrists etc. It is a big step to let a couple of other guys take over some of the blowing work in the stud...
read more
Keith Grinter is the glass artist based in the Town Basin, Whangarei