Every piece of glass I create is a unique piece of art
I have developed the shard technique to enable me to create unique and interesting abstract art on blown glass. Look for my painted and blown work. I apply all I have learnt from years of painting and studying art to create these works.
July 27, 2019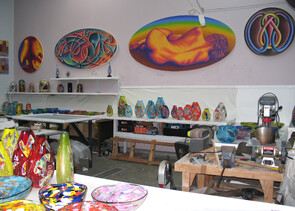 I have finally managed to hang some paintings in the studio. Some have been unwrapped for the first time since we moved six years ago. This move was inspired by a possibility that may come to pass soon. If it does I will let you know. Meanwhile someone is coming to buy a painting next week. The pers...
read more
Keith Grinter is the glass artist based in the Town Basin, Whangarei